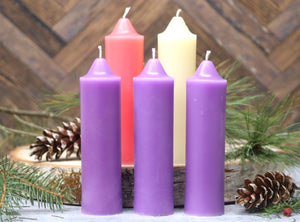 ehis Advent Pillar set is perfect for anyone who would like a long-lasting Advent pillar candle with a simple design (looking for something different? Check out our embossed Advent pillar set! https://thebeeswaxyknees.com/products/3-pillar-beeswax-advent-candles )
This Advent pillar set contains five candles: (3) purple candles, (1) white candle, and (1) pink candle.
Each candle is 6½" tall x 1 ¾" wide and can burn up to 30 hours.