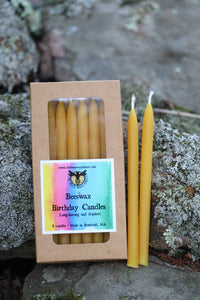 Bring a natural touch to any upcoming celebration with these pure beeswax candles, made with a 100% cotton wick. They are designed to be dripless so there's no mess to clean up and will last for many celebrations!
Available in two quantities: 8 or 16ct per box
The Bee's Gift Box Was Well Received!
The grandchildren are big Bee fans, so they were happy to get something straight from the bees, which included these candles, which will be used again, next month, and many months to come!